No. No. No. Norman
"There will always be rocks in the road ahead of us. They will be stumbling blocks or stepping stones; it all depends on how you use them."
Friedrich Nietzsche
Above image: Road construction in Uganda, funded by World Bank.
The man, whom has ridden the contemporary pulse of architecture, has endeavored to propose a project under the name of humanity. Norman Foster has proposed a drone airport to bring supplies to remote areas of Africa lacking basic roads and infrastructure. This idea "speaks" of all the correct notions in terms of intending the assist humanity and solve urgent needs. It is glorious to find a way to outsmart the world and limitations, but the world, in which "do not have any roads" are provincial and develop there own sense of order. This context on the ground must be 100% researched and inherently understood before the alien airport arrives and is plopped like a house on a monopoly board. Cited in the press release by Foster+Partners, the intentions behind the drone airport are of a good nature but here is list of practical questions.
WHO is the entity on the ground, in charge of airport operations, receiving these supplies and then determining it's distribution method/system?
HOW logical is it to expect high-valued drone goods will be secure once they touch the ground?
WHAT happens if groups looking to make a profit seize the airport or threaten it's daily operations?
WILL the local community develop dependence for this faceless long-distance arm and as a result will they stop seeking their own long-term solutions?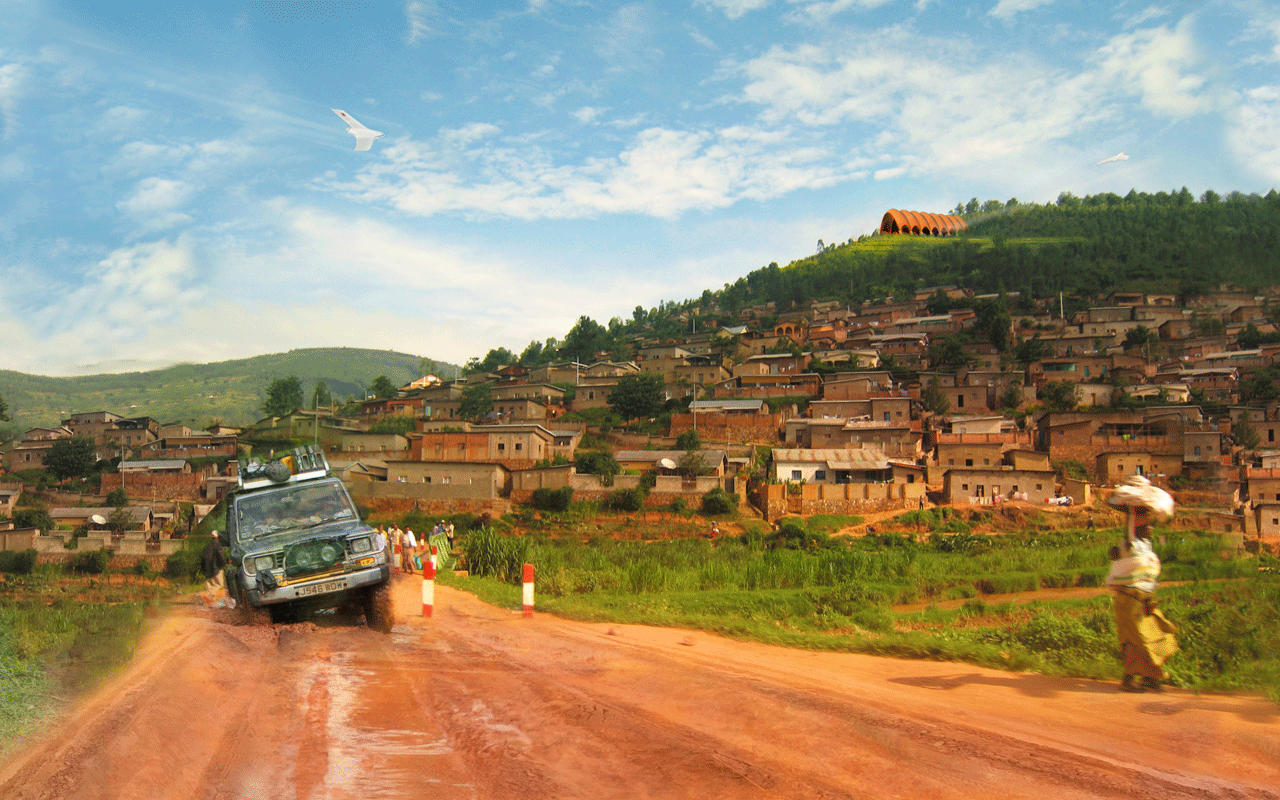 Above image: - King of the Mountain - drone airport, remote village and car stuck in the mud
The modern world has advanced enough to navigate beyond the limitations of roads but the significance of building a simple road is more critical then we understand. The construction of a road is a tangible way to recieve necessary resources and more importantly, lays the ground work for many needed activities for the future. It allows people to meet and interact giving communities the choice towards possibility that is beyond the imperial hand. If these communities can build the drone airport, a beautifully vaulted brick modulated structure, then the construction of a road will be a piece of cake. A simple road does not seem glamorous to the "world of architecture" but it must not be overlooked. It can make a significant impact on the long term sustainability of a community. We must not forget there is gravity and empowerment in the most basic building blocks of humanity. Let's not forget that they are the same building blocks that has led the modern world towards it's daily advancements. Let's work towards enabling a future for these communities to discover and build their own roads.